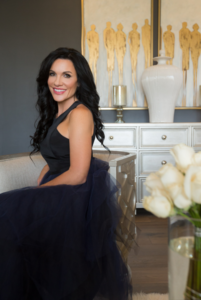 Trish Beaudet has been the Owner of Cashmere and Vine Interiors for 20 years. Having a passion and flair for amazing interiors she decided to pursue that passion and opened her own company in 2001. Having a passion and flair for design, she decided to pursue that passion and opened her own Interior Design business in Michigan in 2001.  Within a very short amount of time, Trish built a wonderful reputation with her clients and her business flourished in residential & commercial design. Loving all things design, Trish would best describe her style as warm modern with a touch of class. She loves the feeling that is created when she uses opposites in a room…light and dark, soft and textured, bringing in those different elements into a space adds a wonderful balance and look to any room. "It's the Cashmere & Vine concept," Trish explains. She believes that every room should have an unexpected element and touch of whimsy. In creating for her clients, Trish does just that: creates for them and their lifestyles. She believes a home should be warm, comfortable and livable, and her job is to guide her clients into creating and realizing what they envisioned.
In 2008, Trish was chosen out of over 10,000 applicants to appear on HGTV'S Design Star; a reality based competition where nine interior designers vie for their own show on HGTV. Praised highly for her on camera ability and natural hosting skills, Trish found herself placing third in the highly competitive competition. Being a part of the show not only solidified her passion for design, it also made Trish realize how much she enjoyed the television production process and with her natural on camera abilities, could pursue a career as a host for design television.
Since the show, Trish has worked with her local television station on various design segments for their news broadcast.  She was asked by that same station to develop a concept for a five episode design show. Trish developed the Refined Design series that showcased the renovation process of a 10,000 sq ft home which aired locally in Michigan in 2010. The viewers were able to experience the trials and triumphs of the design and renovation process from start to finish. Acting as one of the producers, head designer, as well as the host, once again Trish showed her natural ease and on camera abilities.
Trish has worked on several projects with sheknows.com, appearing on seasons 3-5 of Homestretch: Battle of the Media Makeovers, Messy Garages and Closet Makeover.  Trish has also utilized her talents as a host for ten she knows how-to videos for Glidden Paint.
In August 2013, taking her creative side to another level, Trish became a first time fiction author. Her newly released Suspenseful Erotic Romance titled Deception By Design is currently available on Amazon.com.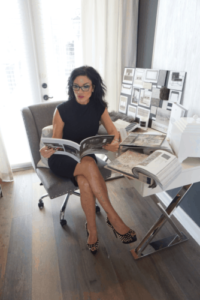 Always willing to share her talents, Trish became a Designing Angel for the Suite Dreams Project in MI in 2014. A non profit organization whose focus is to serve low to moderate income children and families dealing with the effects of long term or terminal illness. Trish created several unique environments with special healing elements specific to each child's need. So moved with her experiences of designing the spaces for these children and their families, Trish became a spokesperson at the Suite Dreams Project Annual Fundraiser in 2015.
Leaving her hometown of Michigan in July 2016, Trish has settled into the Lighthouse Point area and is looking forward to continuing her business, bringing her sense of style and taste to Florida. She is committed to providing her clients with personalized service in creating unique environments that reflect their lifestyle.
As the owner of a growing business, Trish is extremely energetic and always on the go.  Quick witted and sarcastically funny, Trish believes in making the most of every moment, every day.